Riveiere is the next-generation commercial passenger ferry from Navgathi boatyards. With state-of-the-art vessel design and NavAlt designed efficient catamaran hull, Riveiere is the best fuel-efficient and stable watercraft on Kerala waterways. The vessel is equipped with solar panels and CIPS Lithium-ion energy storage for auxiliary electrical load support and advanced marine electric steering ECN3600. Riveiere will be handed over to Kerala state water transport department on 17th September 2021.
Riveiere is IRS class approved for its safety and standards. The vessel is built with the most efficient low maintenance, composite structure catamaran hull with low resistance focusing to reduce the daily ferry operating expenses. It can attain a max cruise speed of 8 knots with greater stability.
A typical 75 pax steel or wooden boat needs 80 hp engine power and consumes 15 litres of fuel per hour, whereas a GRP boat needs 40 hp engine power and consumes 8 litres per hour. Our Riveiere 75 need just 20 hp engine power and consumes only 4 litres of fuel while operating at 6 knots speed.
So in a day, while a 75 pax wooden or steel boat consume 108 litres of fuel, the GRP boat needs 58 litres of fuel, the Riveiere 75 need only 29 litres of diesel. In a year (350 days operation), the fuel consumption will be 37800 litres, 20300 litres, and 10,150 litres of diesel, respectively, for wooden/steel boats, GRP boats, and Riveiere 75.
With the current diesel price of INR 95 per litre, the yearly operating expense of a wooden /steel boat is INR 39.5 lakhs, and for a GRP boat, it is INR 21.2 lakhs. In the case of Riveiere 75, the yearly energy cost will be INR 10.6 lakhs.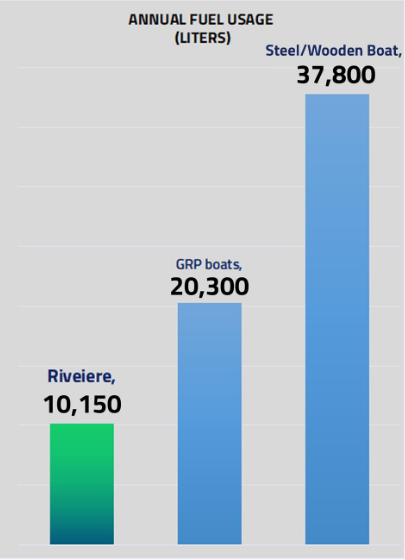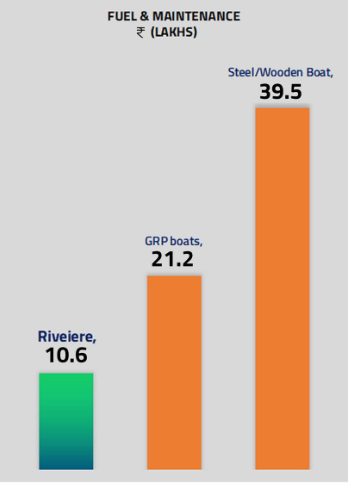 Saving 27,000 litres of diesel and ₹ 29 lakh per year compared to a steel or wooden boat.
Two 50 HP diesel-powered engines are used to power the vessel along with a full range of marine-approved sensors, transmitters, switches, and valves. Additional features like GPS navigation, Echo sounder monitoring, advanced vessel performance display are also embedded for travel comfort and safety, The passenger cabin has a sitting capacity for 75 people. The design is highly specious and elegantly arranged for a cozy and relaxed ride.
The auxiliary electrical loads of the vessel are purely run on clean energy with 3 kW solar modules and CIPS lithium-ion battery storage. Navgathi developed ECN3600 Electric steering is integrated into the vessel to attain higher maneuverability and eliminates the use of any hydraulic fluids, bulky pipes lines, and hoses.
With all these technology additions to Riveiere. The Ferry stands out from a conventional ferry by operating with less fuel consumption and more stability. The vessel reduces a large number of carbon emissions during its operation leading the way towards decarbonizing inland water transport.