MAINTENANCE CONCEPT
The concept of maintenance applies to the different systems, products & materials. These include retaining or restoring the equipment or product to its designed function ability. Maintenance is a common term for us, but many are not aware of the actual needs & requirements of this term, especially in boats. On-time maintenance has a significant role in ensuring the successful operation of vessels. Unfortunately, most of the owners are compromising the maintenance activities because of tight operational schedule and initial costs. The fact is, on-time maintenance will increase efficiency and the life span of the equipment or system, and result in cost reduction & better safety.
PROACTIVE MAINTENANCE
The concept refers to the set of activities, tests, procedures, and inspections that we do to predict or prevent the breakdown of systems including equipment, machines, or material in the future. The entire process is to resolve the root causes of failure, and dealing with those issues before issues occur.
BENEFITS OF PROACTIVE MAINTENANCE
Break down usually occurs when equipment or system fails to meet the designed activities. By proactive maintenance, we can find the root cause of the problem before it fails. Hence we can avoid downtime.
Spare parts cost would be less compared to the entire equipment cost, and therefore, early-stage troubleshooting and avoiding failures in the system would be cheaper.
Increased Life Span of the Machinery / Equipment
Purchasing of marine equipment is expensive, so its life span has a significant role in cost control. A proactive approach to maintenance keeps marine systems & equipment capable of running continuously at maximum efficiency and for a longer life span.
We hesitate to implement a proactive maintenance method because of the initial cost.  However, if we consider life cycle cost, the total cost will be less for proactive maintenance compared to reactive maintenance. The labor cost in scheduled maintenance is almost a horizontal line where we can achieve less emergency repair.
NEED OF MAINTENANCE IN BOATS
Although boat maintenance is different from plant or factory maintenance, it is similar to automobile maintenance. Safety is paramount in boats; hence daily inspection is mandatory in some systems. Also scheduled maintenance required in few others.
CHECKLIST
Every boat needs a specific checklist on board for ensuring the ease of operation of the vessel during the voyage, which includes most of the daily inspections. The checklist includes:
Boat hull, deck, superstructure
Main engine/motor & propulsion system
Electrical system & controls
HVAC & blowers
Piping, outfitting
Entertainment system
Life-saving, fire fighting, lights, sounds, signals
Doors, windows, upholstery
The checklist helps the maintenance team to find out the issues in early-stage. The timely rectification work will prevent a significant breakdown. Hence the daily checklist has a vital role in boat maintenance.
ANNUAL MAINTENANCE CONTRACT
In addition to the design and construction of boats, we have expertise in maintenance service. Our team can ensure the successful operations of vessels by providing on-time maintenance round the clock. We are offering standard AMC and customizable AMC for the complete boat. We promise assured service in minimum time with high quality.
Concept of AMC:
AMC is an agreement with the service provider for the maintenance of the boats. This contract offers on-time care on all equipment and ensures that the vessel is ready for service.
ANNUAL MAINTENANCE CONTRACT STRUCTURE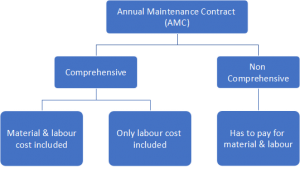 Key Benefits:
Savings from unexpected maintenance cost
Increased life span and reduced breakdown, wear, and tear damage.
A technical team capable of focus on maintenance activities can do the job effectively.
Advantages of planning maintenance at regular intervals.
Regular checking of the safety system, equipment.
Ensuring tension-free mind for boat owners. 
BOATS UNDER ANNUAL MAINTENANCE CONTRACT 
We have solar boats and diesel boats under the AMC contract. The below graph shows the AMC work status, very minimum number of issues are pending in these boats. This means, Our maintenance activities and procedures in these boats are successful. And we strongly believe that our maintenance concept & activities can be implemented in other boats also.